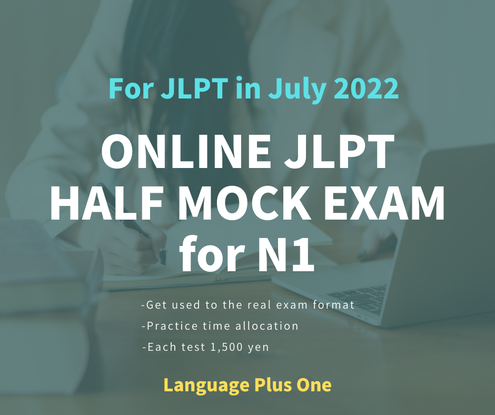 JLPT Online Half-Test (N1)
Hello, everyone. 
In preparation for the JLPT in July 2022, we will be holding half mock exams.
The half mock test is a service provided by Language Education Publishing Company 株式会社アスク出版, which halves the number of questions and time of the real test. It covers all areas of vocabulary, grammar, reading and listening comprehension, so it can be used for a variety of purposes, such as to find out your current ability, to get used to the real exam format, to practice time allocation, to find out your strengths and weaknesses to make your study plan.
■Benefits
-You will be able to view your results and study advice online immediately after the exam.
-The day after the exam, you will be able to take an explanatory class.
-Online so you can take it from outside the country.
 ■Date and time
Part1
 Saturday, April 9, 20:00-22:00 
follow-up class
 Sunday, April 10, 20:00-21:30 
-- --------------------------------
Part 2
 Saturday, May 14, 20:00-22:00 
follow-up class
 Sunday, May 15, 20:00-21:30  
-- --------------------------------
Part 3
 Saturday, June 18, 20:00-22:00 
follow-up class
 Sunday, June 19, 20:00-21:30  
The explanatory session is a free option, so please feel free to attend. 
(There is no discount for those who do not attend the explanatory session.) 
■Test Time
85 minutes (There is a 10-minute break)
■How to take the test
Online (zoom).
■ Fees.
1500 yen per session
■How to apply
https://forms.gle/MFsNcF81guhw9t287
Please fill out and submit this form and we will contact you as soon as possible.
■Payment Method
(1) Bank transfer (Japan Post Bank)
(2) Paypal
(3) Credit card
*We will send detailed information by email to those who have applied.
*Please make the payment within 5 days of your application.
*Once payment has been made, refunds for cancellations will not be accepted.
■Deadline.
Part 1: Wednesday, April 6, 17:00
Part 2: Wednesday, May 11, 17:00
Part 3: Wednesday, June 15, 17:00
If you have any questions, you can always contact us here.
https://www.language-plus-one.com/contact/
Indication based on the Act on Specified Commercial Transactions
https://drive.google.com/file/d/1wAHhVDsm9p_KdEbjzqqecKkfr2h6BwPO/view?usp=sharing
【JLPTオンラインハーフ模試のお知らせ】
皆さまこんにちは。いかがお過ごしでしょうか。
2022年7月のJLPTに向けて、「ハーフ模試」を行います。
ハーフ模試は、株式会社アスク出版が提供しているサービスで、本当の試験の問題数と時間が半分になったものです。文字語彙・文法・読解・聴解すべての分野をカバーしていますので、現在の実力を知るため、本番の試験形式に慣れるため、時間配分の練習、得意・苦手分野を知って今後の対策を立てるためなど、さまざまな目的で活用できます。
メリット
―試験が終わった後、すぐにオンライン上で結果と学習アドバイスを見ることができます
―試験の翌日に解説授業が受けられます
―毎月行いますので自分の成長を見ることができます(毎回試験問題は変わります)
―オンラインなので国外からも受けられます。(遅い時間に設定しています)
■日時
第1回試験
4月9日(土) 20:00~22:00 
解説授業
4月10日(日) 20:00~21:30 
――――――――――――――――――――――――――
第2回試験
5月14日(土) 20:00~22:00 
 解説授業
5月15日(日) 20:00~21:30  
――――――――――――――――――――――――――
第3回試験
6月18日(土) 20:00~22:00 
解説授業
6月19日(日) 20:00~21:30  
*解説授業は無料のオプションなので、自由にご参加ください。
(解説授業に参加されない場合の割引はありませんので、ご了承ください)
■試験時間
【合計85分】 文字・語彙・文法・読解55分 聴解30分 +10分の休憩
■受験方法
オンライン(zoom)で行います。
■料金
1500円/1回
■申し込み方法
https://forms.gle/MFsNcF81guhw9t287
こちらのフォームに必要な情報を記入してお送りください。
■お支払方法
お申し込みから5日以内に以下の方法で料金をお振込みください。
①振込(ゆうちょ銀行)
②Paypal
③クレジットカード
申し込みのあった人にメールで詳しい情報を送ります。
入金後、キャンセルによる返金は基本的に受け付けません。
■締め切り
第1回 4月6日  (水)17:00
第2回 5月11日(水)17:00
第3回 6月8日  (水)17:00
ご質問がありましたら、こちらからいつでもご連絡ください。
https://www.language-plus-one.com/contact/
特定商取引法に基づく表示
https://drive.google.com/file/d/1wAHhVDsm9p_KdEbjzqqecKkfr2h6BwPO/view?usp=sharing