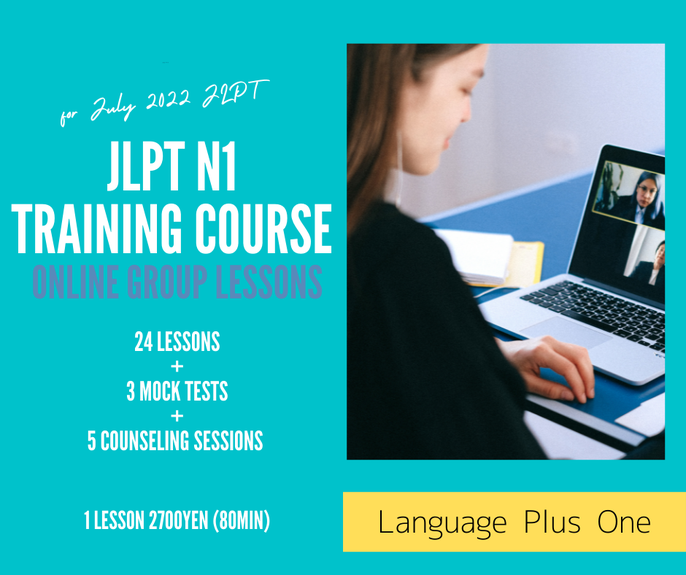 N1 Training Course for July 2022 JLPT (Online Group Lessons)
**We're accepting participants☺**
In preparation for the JLPT (Japanese Language Proficiency Test) to be held in July 2022, we will start intensive lessons focusing on N1 from January 2022. 24 lessons, 5 personal counseling sessions and 3 half mock tests are included. This plan will keep you motivated until the end. Once you sign up, you can't quit until the exam. If you definitely want to pass the exam, please apply.
This plan is recommended for those who have these problems
-If you don't know where to start.
-If you have been studying for a long time but have not been able to continue
-If you are busy with work and don't have time to study.
-If you want to have a classmate to study with
■Period: January 2022 to June 2022 (The first session will be held on January 11 or 15)
24 lessons in total
■Location: Online (zoom)
■Class time: Once a week (80 minutes) with a break in between.
Tuesday 20:00-21:30 or Saturday 9:30-11:00 
*Same content. It is possible to change during the course.
■Eligibility: Must have passed N2 of JLPT.
■Number of participants: 5 persons per class (Depending on the week, there may be more than 5 persons.)
■Class contents: Vocabulary, grammar, reading comprehension (listening comprehension will not be covered in the class)
■Textbooks:
1) Vocabulary "Kikutan N1" (Kindle: 2,299 yen, book: 2,420 yen)
2) Vocabulary "Power Drill N1" (Kindle: 774 yen, book: 968 yen) *from April
3) Grammar "Speed Master N1" (Kindle:1,056 yen / book: 1,320 yen)
4) Reading comprehension "Speed MasterN1" (Kindle:1,056 yen/book:1,320 yen)
Total  Kindle: 5,185 yen / Book: 6,028 yens
*All of these books are available in e-book format.
*Please make sure to purchase them before the class starts (Vocabulary power drills can be purchased after April.)
*If you do not purchase the textbook, you will not be able to participate in the class.
■Schedule: Can be found at this link. (Please note that the schedule is subject to change.)
https://drive.google.com/file/d/1AIie3wTjt3ogejzoEbIGViLm7lfS5MZT/view?usp=sharing
■Fee: 24 lessons, 64,800 yen (2,700 yen per lesson)
 (Including 3 half-mock exams, 3 half-mock exam explanatory lessons, and 5 individual interview sessions)
 *Please make a payment in advance. The first deadline is Saturday, January 8.
*If there is a vacancy, you can join from the middle of the course.
During January, the fee is 2,700 yen per remaining session.
If you join from February onwards, 2900 yen per remaining lesson.
 *If you join from the first time, you can save 4800 yen.
 *Installment payments are also available (no interest), and you can choose to pay in two or three installments.
■Application: Please contact us using the form below. Applications will be accepted on a first-come, first-served basis.
https://forms.gle/VJtJmSNTmx5G79wn8
*If the number of participants reaches the limit, the link will be invalidated.
■Payment method: Paypal, credit card, Japan Post (please pay for the transfer fee)
 *If none of these methods are available, other methods are possible. Please consult with us.
 *We will inform you of the bank transfer address after your application.
 *Installment payments are also available (no interest), and you can choose to pay in two or three installments.
■Cancellation Policy
A. Cancellation of registration: No refunds will be given after registration, However, it is possible to transfer the right to attend the class to someone else.
B. Cancellation of classes: Classes will be held on Tuesdays and Saturdays with the same content. If you are unable to attend one of the classes, please let us know and we will try to accommodate you on the other day. If you are unable to attend either day, it will be treated as a cancellation. If you are unable to attend either class, you will be treated as a cancellation, and there will be no refunds.
■Privacy Policy
We will not use your personal information for any purpose other than those related to this course.
■Other Items Included in the Course
-Counseling: Course participants can receive personal counseling once a month. (Up to 5 times) . Counseling is scheduled at a certain time each month. You can receive counseling from the month of your application date. Please note that you cannot receive counseling for past months.
-Half mock exams: Held on Saturday evenings in April, May, and June, at a different time from the class. Explanatory lessons will be given the following days.
We accept consultations via Zoom and email (free of charge). If you have any questions before applying, please feel free to contact us here: info@language-plus-one.com
2022年7月日本語能力試験に向けたN1トレーニングコース(オンライングループレッスン)
2022年7月の日本語能力試験に向けて、2022年1月からN1に特化した集中レッスンを行います。24回のレッスンに加えて、5回の個人面談、3回のハーフ模試付きです。最後までやる気を継続させるプランです。一度申し込んだら試験までやめることができません。絶対に試験に合格したいという方、ぜひお申し込みください。
こんな人にお勧めします。
*何から始めればいいかわからないという方
*勉強しても長く続かないという方
*仕事が忙しくて勉強の時間が取れないという方
*一緒に勉強する仲間が欲しいという方
■期間:2022年1月~2022年6月 (第1回は1月11日または1月15日)
■場所:オンライン(zoom)
■授業時間:週1回(80分)*途中休憩あり
火曜20:00~21:30 または 土曜日9:30~11:00 
     *同じ内容です。途中で変更も可能です。
■受講資格:JLPTのN2に合格していること
■人数:1クラス5名(週によって5名以上に可能性もあります。ご了承ください)
■授業内容:語彙、文法、読解(聴解は授業では扱いません)
■使用教科書:   
①語彙『キクタンN1』(kindle 2,299円/本2,420円)
②語彙『パワードリルN1』(kindle 774円/本968円)
③文法『スピードマスターN1』(kindle1,056円/本1,320円)
④読解『スピードマスターN1』(kindle1,056円/本1,320円)
 計kindle 5,185円/本6,028円
*すべて電子書籍版があります。
*授業開始前に必ずご購入ください。(語彙のパワードリルは4月以降で構いません)
*教科書の購入が確認できない場合、授業への参加はできません。
■スケジュール:こちらのリンクからご覧いただけます。(内容は変更になることもありますのでご了承ください)
https://drive.google.com/file/d/1AIie3wTjt3ogejzoEbIGViLm7lfS5MZT/view?usp=sharing
■料金:全24回 64,800円(1回:2,700円)
(ハーフ模試3回、ハーフ模試解説授業3回、個人面談3回含む)
*事前のお申し込みとなります。初回の締め切りは、1月8日(土)です。
*それ以前に定員に達した場合は申し込みを締め切らせていただきます。
*空きがあれば途中からでも参加できます。
1月中は残り回数×2700円、2月以降参加の人は、残り回数×2900円
*初回から参加した場合、4800円お得です
*分割払いOK(無利子)2~3回から選べます。
■お申込み:下のフォームでご連絡ください。先着順となります。
https://forms.gle/VJtJmSNTmx5G79wn8
*人数に達して申し込みが不可の場合にはリンクが無効になります。
■支払方法:Paypal、クレジットカード、ゆうちょ(振込手数料はご負担ください)
*いずれも難しい場合にはほかの方法も可能です。ご相談ください。
*お申込み後に振込先をご案内します。
*分割払いOK(無利子)2~3回から選べます。
■キャンセルについて
 A. 申し込みのキャンセル:お申し込み後の返金はできません。ただし、授業参加の権利をほかの人に譲るなどは可能です。
 B. 授業のキャンセル:火曜日と土曜日に同じ内容で開講します。初めに基本の曜日を決めていただきますが、用事があってどちらかに出られない場合は、ご連絡いただければほかの曜日に参加することができます。どちらにも参加できない場合はキャンセル扱いになります。その場合の振替や返金はありませんので、ご了承ください。
■個人情報について
 知り得た個人情報はこちらの講座関連以外では使用致しません。
■その他コースに含まれているもの
ーカウンセリング:コース受講者は、1か月に1回好きな時間に個人カウンセリングを受けることができます。カウンセリングは毎月時期が決まっています。お申し込み日の月からカウンセリングを受けることができます。過去の分は受けられませんので、ご了承ください。
ーハーフ模試:4月、5月、6月の土曜日夜に授業とは別の時間に行います。翌日に解説授業も行います。
Zoom、メールでのご相談(無料)受け付けています。申し込み前にご相談したいことがある方はこちらにお気軽にご連絡ください。info@language-plus-one.com
特定商取引法に基づく表示
Indication based on the Act on Specified Commercial Transactions
https://docs.google.com/document/d/1Za5NNGOkcjcTJ0wQRo_6GJDS-cDFynh0/edit?usp=sharing&ouid=104806625065500793865&rtpof=true&sd=true