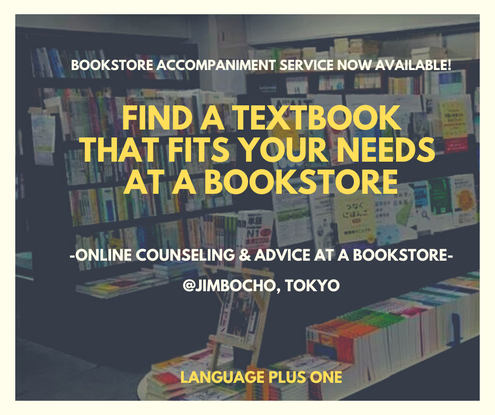 Bookstore Accompaniment Service Now Available!
Selecting Textbooks at a Bookstore with a Japanese Teacher
-Online counseling & advice at a bookstore-
If you want to start studying Japanese, but don't know where to start, a experienced Japanese teacher will help you choose a book that fits your learning style and purpose from among the many textbooks. We will also give you advice on how to use the textbook effectively.
(Example of consultation)
JLPT, job interviews, business Japanese, Kanji, etc.
Please feel free to consult with me about anything.
Location: Jimbocho (Tokyo Metro Hanzomon Line, Toei Mita Line, Toei Shinjuku Line)
This is a town with many bookstores.
Fee: 7,000 yen (total time: average 3 hours)
This includes online counseling and bookstore accompaniment.
Textbook fee is not included.
Contact: info@language-plus-one.com (Tanaka)
書店同行サービス開始しました
オンラインカウンセリング&書店でアドバイス
目的に合った教科書を日本語専門書店で一緒に選びましょう
日本語の勉強を始めたいけど、何からすればいいかわからないという方、たくさんのテキストの中から、あなたの学習スタイルや目的に合った一冊を選ぶお手伝いをします。テキストの効果的な使い方もアドバイスします。
(相談例)
JLPT、仕事の面接、ビジネス日本語、漢字等
なんでもご相談ください。
場所:神保町(東京メトロ半蔵門線、都営三田線、都営新宿線)
*書店の多い街です
料金:7000円(合計時間:平均3時間)
*事前オンラインカウンセリング(約60分)、書店同行費用が含まれます。
*テキスト代は含まれません。
Contact: info@language-plus-one.com (Tanaka)