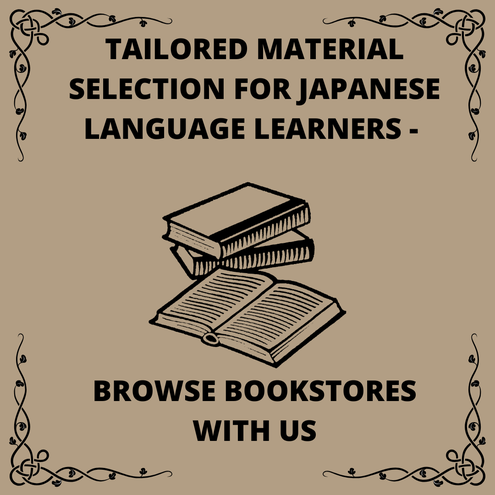 Online Counseling & Advice at Bookstores
"Tailored material selection for Japanese language learners - Browse bookstores with us" is a tailor-made service that provides counseling, selection of learning materials, and study support according to the needs of Japanese language learners. The main features of this service are "counseling" and "bookstore accompaniment.
First, through counseling, we can understand the learner's concerns and issues and propose solutions to them. For example, if a learner lacks confidence in their pronunciation, we can provide them with materials to help them practice pronunciation or give them advice on how to improve their listening skills. Through counseling, we can provide customized support for learners' concerns and challenges so that they can learn Japanese with greater confidence.
We visit Japanese bookstores with skilled Japanese language teacher to select learning materials, incorporating recommendations from booksellers and from the teacher. This allows learners to choose from a wide variety of teaching materials available on the market that are truly useful, thereby reducing the burden on the learner and increasing the effectiveness of the learning process.
This service is ideal for those with these concerns
A beginner who wants to start learning Japanese
Those who are studying on their own but are not sure how to select appropriate teaching materials
Those who are facing problems such as not knowing how to use the study materials.
Those who want support in selecting the right study materials and advice on how to use them.
Those who want help in selecting books and magazines written in Japanese. (Advanced level)
◆Procedure
1) 60-minute counseling online
2) Decide the date to go to the bookstore
3) Select books at the bookstore
◆Location
Bookstores in Tokyo (Shinjuku, Jimbocho, Otemachi, etc.)
*Please select the location of your choice.
*Please consult with us if you do not know where to go.
◆Fees
8,000 yen (total time: maximum 150 minutes)
*Includes advance online counseling (approx. 60 min.) and the cost of bookstore accompaniment (max. 90 min.).
*Extension is +500 yen per 30 minutes.
*Textbooks are at your own expense.
*If you decide to move on to ongoing private lessons after receiving this service, you will receive a discount of 2,000 yen.
 Contact: info@language-plus-one.com (Tanaka)
オンラインカウンセリング&書店でアドバイス
 こちらは、カウンセリングから教材選び、学習支援まで、学習者のニーズに合わせてカスタマイズしたサービスです。このサービスの主な特徴は、「カウンセリング」と「書店同行」です。
まず、カウンセリングを通じて、学習者の悩みや課題を把握し、その解決策を提案することができます。例えば、発音に自信がない学習者に対しては、発音の練習に役立つ教材を提供したり、リスニング力を高めるためのアドバイスをしたりします。カウンセリングを通じて、学習者の悩みや課題を個別にサポートすることで、学習者がより安心して日本語を学べるようにします。
熟練した日本語教師とともに日本の書店を訪れ、書店員や教師からのアドバイスを取り入れながら教材を選定します。これにより、学習者は市販されている様々な教材の中から本当に役立つものを選ぶことができ、学習者の負担を軽減し、学習効果を高めることができます。
このような悩みをお持ちの方に最適なサービスです
日本語の勉強を始めたい初心者の方
独学で勉強しているが、適切な教材の選び方がわからない方
教材の使い方がわからないなどの悩みを抱えている方。
教材選びのサポートや使い方のアドバイスが欲しい方。
日本語で書かれた本や雑誌の選び方をサポートしてほしい方。(上級)
【手順】
①オンラインで60分のカウンセリング
②書店に行く日を決定
③書店で本を選ぶ
【場所】
東京都内の書店(新宿、神保町、麹町、大手町等)
*お好きな場所をご指定ください。
*どこに行けばいいかわからないという場合はご相談ください。
【料金】
8,000円(合計時間:最大150分)
*事前オンラインカウンセリング(約60分)、書店同行費用(最大90分)が含まれます。
*30分までの延長は無料。それ以降は30分ごとに+500円。
*テキスト代はご自身でご負担ください。
*このサービスを受けた後に、継続した個人レッスンに移行する場合は、2000円分を割引します。
Contact: info@language-plus-one.com (Tanaka)