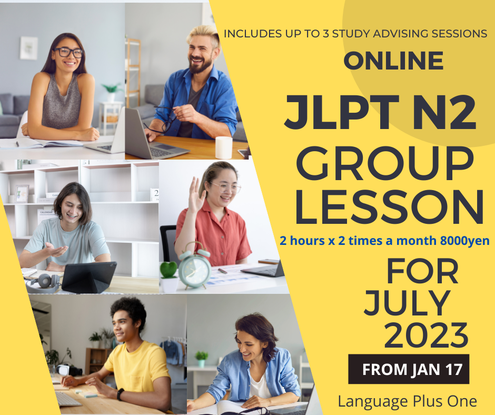 N2 Training Course for the July 2023 JLPT (Online Group Lessons)
Includes up to 3 study advising sessions
Free zoom consultation before registration is available.
Online group lessons will be offered from January 2023 in preparation for the JLPT in July 2023.
 Recommended for people who
* Those who do not know where to start.
 →We will focus on only one textbook and complete it before the exam. (It covers vocabulary, grammar, and reading comprehension)
*Those who cannot continue studying for a long time.
 →You can proceed at your own pace since the lessons are held twice a month.
*Those who are too busy with work to attend classes
 →Classes are held on weekday evenings and Saturdays. The same class is held three times a month, so you can make up for a sudden change of schedule.
*Those who feel unmotivated when studying alone.
 →Since it is a group lesson, you can encourage each other to finish the class.
Details are here ↓↓↓↓↓↓↓↓↓↓↓.
■Period: January 2023 - June 2023 (The first session will be held on January 17)
■Location: Online (zoom)
Class hours: Tuesdays 19:30-21:30, Saturdays 10:00-12:00 (2 hours each session)
(You can take the course twice a month.) 
■Lesson hours: Tuesday, 19:30-21:30; Saturday, 10:00-12:00
Qualifications: Must have passed JLPT N3 (or proof of equivalent level)
■Number of students: Up to 6 students per class
■Textbooks used:  
Vocabulary, Grammar, Reading Comprehension
『全科目攻略!JLPT日本語能力試験ベスト総合問題集N2』
(kindle 1,782 yen/book 1,980 yen)
https://www.amazon.co.jp/dp/B09FJF26MS/ref=cm_sw_r_tw_dp_1YK4QQG7CWG3512G815S
*Please be sure to purchase the book before the class starts. If you cannot confirm your purchase, you will not be able to participate in the class.
■Schedule:
https://drive.google.com/file/d/1Urm5H4-gTUCcUvH9OVLaryi1dXTKpyrW/view?usp=share_link
*Subject to change after the course starts, but we will inform you in advance.
■Fee: 8,000 yen per month (2 lessons per month)
including classes and advising sessions.
*The number of advising sessions varies depending on the number of months of continuous attendance.
 (Number of advising sessions available: 1-2 months: 1 session, 3-4 months: 2 sessions, 5-6 months: 3 sessions)
*Special fee of 1,000 yen per session for the JLPT half test (*) (extra charge). 
*Registration is required in advance.
*If there is space available, you can join at any time during the course.
*Transfers are only valid for that month. Please note that you cannot transfer to another month's class.
■Registration
Please contact us using the form below. Applications will be accepted on a first-come, first-served basis.
https://forms.gle/162hEeRpG9UhXBX88
*If the number of applicants reaches the limit and the application is not accepted, the link will become invalid.
If you would like to meet with us before applying, please fill out the form below.
■Payment method: Paypal, Japan Post Bank (Please bear the bank transfer fee.)
If neither of these methods is feasible, other methods are also available. Please consult with us.
We will inform you of the bank transfer address after your application.
■Cancellation
Cancellation of the lesson:The date of the twice-monthly class must be submitted in the previous month. However, if you are unable to attend on the day of the lesson, you can reschedule for another day if you contact us (please note that if you contact us after the lesson is over, you will not be able to reschedule). No fee will be charged for the transfer.
■Personal Information
 We will not use your personal information for any purpose other than those related to this course.
We accept consultation by Zoom and e-mail (free of charge). Please feel free to contact us if you have any questions before registering. info@language-plus-one.com
■Indication based on the Act on Specified Commercial Transactions  
https://drive.google.com/file/d/1f4pR8SUDRQa4sM4DZ931yR-xF2fvaHY-/view?usp=share_link
学習アドバイザーによる学習アドバイジング付き(最大3回)
2023年7月日本語能力試験に向けたN2トレーニングコース
(オンライングループレッスン)
★申し込み前の無料zoom相談受付中★
2023年7月の日本語能力試験に向けて、2023年1月からグループレッスンを行います。
 こんな人にお勧めします。
*何から始めればいいかわからないという方
 →教科書1冊だけに集中して、試験までに完成させます。(語彙、文法、読解が含まれます)
*勉強しても長く続かないという方
   →月2回のレッスンなので、自分のペースで進められます。
*仕事が忙しくて授業に参加したいけどできないという方
 →平日夜と土曜午前に授業があります。同じ授業が1か月に3回行われますので、急な予定変更があっても振替ができます。
*一人だとやる気が出ないという方
 →グループレッスンなので、お互いに励まし合いながら最後までやり遂げることができます。
詳細はこちらです↓↓↓
■期間:2023年1月~2023年6月 (第1回は1月17日)
■場所:オンライン(zoom)
■授業時間:火曜日 19:30~21:30、土曜日 10:00~12:00 (各回2時間)
(1か月に2回受講可能です)
■受講資格:JLPTのN3に合格していること(または同等のレベルの証明)
■人数:1クラス6名まで
■使用教科書:  
語彙・文法・読解共通
『全科目攻略!JLPT日本語能力試験ベスト総合問題集N2』(kindle1,782円/本1,980円)
https://www.amazon.co.jp/dp/B09FJF26MS/ref=cm_sw_r_tw_dp_1YK4QQG7CWG3512G815S
*授業開始前に必ずご購入ください。購入が確認できない場合、授業へ参加できません。
■スケジュール:
https://drive.google.com/file/d/1Urm5H4-gTUCcUvH9OVLaryi1dXTKpyrW/view?usp=share_link
*講座開始後に変更することもありますが、事前にお伝えします。
■料金:1か月8,000円(1か月に2回の授業が受けられます)
*含まれるもの:授業、学習アドバイジング 注1:継続月数によりアドバイジングの回数が変わります。
 (アドバイジング受講可能回数:継続1~2か月:1回、継続3~4か月:2回、継続5~6か月:3回)
*JLPTハーフ模試(*)が特別料金の1回1,000円(別料金)で受けられます。*外部の試験です
*事前のお申し込みとなります。
*空きがあれば途中からでも参加できます。
*振替は、その月のみ有効です。ほかの月の授業には振替ができませんのでご注意ください。
■お申込み:下のフォームでご連絡ください。先着順となります。
https://forms.gle/162hEeRpG9UhXBX88
*人数に達して申し込みが不可の場合にはリンクが無効になります。
*申し込み前に面談を希望される場合はフォームの中に欄がありますのでご記入ください
■支払方法:Paypal、ゆうちょ(振込手数料はご負担ください)
*いずれも難しい場合にはほかの方法も可能です。ご相談ください。
*お申込み後に振込先をご案内します。
■キャンセルについて
月2回の受講日は、前月に提出していただきます。ただし、当日参加できなくなった場合はご連絡いただければほかの日に振り替え可能です(レッスン終了後に連絡があった場合は振替ができませんのでご注意ください)。振替の場合の料金はかかりません。
■個人情報について
 知り得た個人情報はこちらの講座関連以外では使用致しません。
Zoom、メールでのご相談(無料)受け付けています。申し込み前にご相談したいことがある方はこちらにお気軽にご連絡ください。info@language-plus-one.com
■特定商取引法に基づく表示
https://drive.google.com/file/d/1f4pR8SUDRQa4sM4DZ931yR-xF2fvaHY-/view?usp=share_link