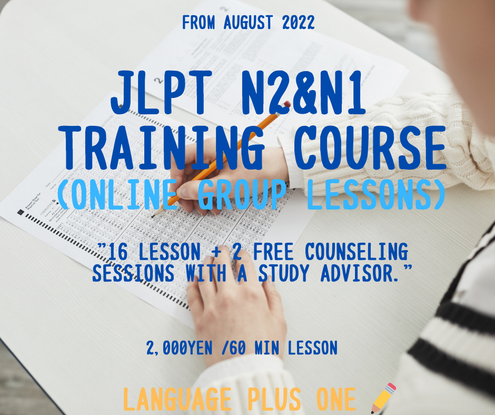 下に日本語があります There is Japanese below.  Có tiếng Nhật bên dưới.
"Includes two free counseling sessions with a certified study advisor."
N2 and N1 Training Course for the December 2022 JLPT
(Online group lessons)
★Free ZOOM counseling available before application★
Intensive lessons will be provided from August 2022 for the Japanese Language Proficiency Test in December 2022. This plan will keep you motivated throughout the course. You can take 2 free study consultations, and 2 half-mock exams at a special rate.
 Recommended for the following people.
Those who do not know where to start.

Those who have a hard time keeping up with studies.

Those who are too busy with work and cannot find time to study.

Those who are not motivated to study alone.
Advantage ①
Because the teacher is a qualified learning advisor...
Advice on study materials and study schedules is available.

Motivation is expected to increase and be maintained.

You can maintain your study habits.
Advantage②
Because it is a small class...
You can get study tips and resource information from other students.

You can study while encouraging each other.

Many chances to speak and improve your conversational skills
Advantage ③
Because it is an online class...
Students can participate from inside and outside of Japan

You can take lessons at late hours after work.

Unlike learning on Youtube, you can't "skip" or " look away".
Details 
■Duration: August 2022 - November 2022 (1st session on August 6)
■Location: Online (zoom)
■Class hours: N2 class: Tuesdays (Grammar) 20:30-21:30, Saturdays (Reading) 10:00-11:00
         N1 Class: Tuesdays (Grammar) 19:00-20:00, Saturdays (Reading) 11:30-12:30
■Eligibility: N1: Must have passed N2
          N2: Must have passed N3
■Number of students: Up to 8 students per class
■Textbooks: 
①Common with grammar and reading classes :
N2:『はじめての日本語能力試験 N2単語2500』(kindle 1,408円/本1,760円)
https://www.amazon.co.jp/dp/4872179846/ref=cm_sw_r_tw_dp_Q68F7EFBBBMAEB8X9K8R
N1:『はじめての日本語能力試験 N1単語3000』(kindle 1,496円/本1,870円)
 https://www.amazon.co.jp/dp/4872179854/ref=cm_sw_r_tw_dp_NA3VP4BZ7Q6T34NMD6B6
②Grammar class:
N2:『TRY! 日本語能力試験 N2 文法から伸ばす日本語』(kindle1,584円/本1,980円)
https://www.amazon.co.jp/dp/487217903X/ref=cm_sw_r_tw_dp_DN3NXR9CFQWDWBET6162
N1:『TRY! 日本語能力試験 N1 文法から伸ばす日本語』(kindle1,584円/本1,980円)
 https://www.amazon.co.jp/dp/4872179048/ref=cm_sw_r_tw_dp_HDJVEVXP79QNZWK470WN
③Reading class:
N2:『全科目攻略!JLPT日本語能力試験ベスト総合問題集N2』(kindle1,782円/本1,980円)
https://www.amazon.co.jp/dp/B09FJF26MS/ref=cm_sw_r_tw_dp_1YK4QQG7CWG3512G815S
N1:『全科目攻略! JLPT日本語能力試験ベスト総合問題集N1』(kindle1,881円/本1,980円)
https://www.amazon.co.jp/dp/4789017818/ref=cm_sw_r_tw_dp_F5D8V53BNPBSJ31E6ZPT?_encoding=UTF8&psc=1
*Please be sure to purchase the book before the class starts. If your purchase is not confirmed, you will not be able to participate in the class.
■Schedule
https://drive.google.com/file/d/14RDYlZyqxjDnjHeLMQT8MugTEZUFkU3E/view?usp=sharing
*There will be a change in class time on September 10.
*There will be no class on September 17.
■Fees: 16 lessons each: Grammar: 32,000 yen, Reading: 32,000 yen (1 lesson: 2,000 yen)
*Included: 2 study consultations (2 each for grammar and reading comprehension course)
*Half-mock examinations* are available at a special rate of 1,000 yen per session (extra charge).**Examination by an external organization.
*Registration is required in advance. The deadline for the first session is Saturday, July 30.
*If we reach capacity before then, we will close the application.
*If there is space available, you can join in the middle of the course.
If you join after the course has started, you will be charged the remaining number of sessions x 2,000 yen.
Installment payment is acceptable (no interest).
*You will receive a free 40-minute personal interview before applying. (Only if you wish)
■Application: Please contact us using the form below. First-come, first-served basis.
https://forms.gle/4FwQoNsQSKYXcCyw5
*If the number of applicants reaches the limit and the application is not accepted, the link will be disabled.
■Payment method: Paypal, Japan Post (Please bear the bank transfer fee.)
If neither of these methods is feasible, other methods are also available. Please consult with us.
We will inform you of the bank transfer address after your application.
Installment payment OK (no interest): You can choose from 1, 2, or 4 installments.
■About Cancellation
 A. Cancellation of application: No refunds will be made after application. However, it is possible to give the right to participate in the class to someone else.
 B. Class Cancellation: If you are unable to attend a class for personal reasons, it will be treated as a cancellation. In such a case, there will be no replacement or refund.
■Personal Information
 We will not use any personal information obtained for any purpose other than those related to this course.
We accept consultation by Zoom and e-mail (free of charge). Please feel free to contact us if you have any questions before registering. info@language-plus-one.com
Indication based on the Act on Specified Commercial Transactions 
https://drive.google.com/file/d/1itTIvMo1_ZFwHeOriSt9flesYrg3lr5t/view?usp=sharing 
"学習アドバイザーによる2回の無料カウンセリング付き"
2022年12月日本語能力試験に向けたN2・N1トレーニングコース
(オンライングループレッスン)
★"申し込み前の"無料zoom相談受付中★
2022年12月の日本語能力試験に向けて、2022年8月から集中レッスンを行います。最後までやる気を継続させるプランです。学習相談が2回無料で、ハーフ模試が2回特別料金で受けられます。
 こんな人にお勧めします。
*何から始めればいいかわからないという方
*勉強しても長く続かないという方
*仕事が忙しくて勉強の時間がなかなか取れないという方
*一人だとやる気が出ないという方
メリット①
日本語教師がアドバイザーの資格を持っているから・・・
教材や学習スケジュールのアドバイスが受けられる
モチベーションの向上とその維持が期待できる
学習習慣が持続できる
メリット②
少人数クラスだから・・・
ほかの学習者から勉強のヒントやリソースの情報をもらえる
お互いに励ましあいながら勉強できる
発話の機会が多く、会話力も向上する
メリット③
オンライン授業だから・・・
日本国内外から参加できる
仕事の後の遅い時間にレッスンが受けられる
Youtubeでの学習と違って「スキップできない」「よそ見できない」
詳細はこちらです↓↓↓
■期間:2022年8月~2022年11月 (第1回は8月6日)
■場所:オンライン(zoom)
■授業時間:N2クラス:火曜日(文法)20:30~21:30、土曜日(読解)10:00~11:00
       N1クラス:火曜日(文法)19:00~20:00、土曜日(読解)11:30~12:30
■受講資格:N1:JLPTのN2に合格していること
       N2:JLPTのN3に合格していること
■人数:1クラス8名まで
■使用教科書:  
①文法・読解クラス共通:
N2:『はじめての日本語能力試験 N2単語2500』(kindle 1,408円/本1,760円)
https://www.amazon.co.jp/dp/4872179846/ref=cm_sw_r_tw_dp_Q68F7EFBBBMAEB8X9K8R
N1:『はじめての日本語能力試験 N1単語3000』(kindle 1,496円/本1,870円)
 https://www.amazon.co.jp/dp/4872179854/ref=cm_sw_r_tw_dp_NA3VP4BZ7Q6T34NMD6B6
②文法クラス:
N2:『TRY! 日本語能力試験 N2 文法から伸ばす日本語』(kindle1,584円/本1,980円)
https://www.amazon.co.jp/dp/487217903X/ref=cm_sw_r_tw_dp_DN3NXR9CFQWDWBET6162
N1:『TRY! 日本語能力試験 N1 文法から伸ばす日本語』(kindle1,584円/本1,980円)
 https://www.amazon.co.jp/dp/4872179048/ref=cm_sw_r_tw_dp_HDJVEVXP79QNZWK470WN
③読解クラス:
N2:『全科目攻略!JLPT日本語能力試験ベスト総合問題集N2』(kindle1,782円/本1,980円)
https://www.amazon.co.jp/dp/B09FJF26MS/ref=cm_sw_r_tw_dp_1YK4QQG7CWG3512G815S
N1:『全科目攻略! JLPT日本語能力試験ベスト総合問題集N1』(kindle1,881円/本1,980円)
https://www.amazon.co.jp/dp/4789017818/ref=cm_sw_r_tw_dp_F5D8V53BNPBSJ31E6ZPT?_encoding=UTF8&psc=1
*授業開始前に必ずご購入ください。購入が確認できない場合、授業へ参加できません。
■スケジュール:
https://drive.google.com/file/d/14RDYlZyqxjDnjHeLMQT8MugTEZUFkU3E/view?usp=sharing
*9月10日は授業時間に変更があります。
*9月17日は授業がありません。
■料金:各16回  文法:32,000円、読解:32,000円(1レッスン:2,000円)
*含まれるもの:学習相談2回(文法、読解それぞれ2回ずつ)
*JLPTハーフ模試(*)が特別料金の1回1,000円(別料金)で受けられます。*外部の試験です
*事前のお申し込みとなります。初回の締め切りは、7月30日(土)です。
*それ以前に定員に達した場合は申し込みを締め切らせていただきます。
*空きがあれば途中からでも参加できます。
コース開始後に参加の場合は、残り回数×2,000円
*分割払いOK(無利子)1回、2回、4回から選べます。
*お申込み前に40分の無料個人面談が受けられます。
■お申込み:下のフォームでご連絡ください。先着順となります。
https://forms.gle/4FwQoNsQSKYXcCyw5
*人数に達して申し込みが不可の場合にはリンクが無効になります。
■支払方法:Paypal、ゆうちょ(振込手数料はご負担ください)
*いずれも難しい場合にはほかの方法も可能です。ご相談ください。
*お申込み後に振込先をご案内します。
*分割払いOK(無利子)1回、2回、4回から選べます。
■キャンセルについて
 A. 申し込みのキャンセル:お申し込み後の返金はできません。ただし、授業参加の権利をほかの人に譲るなどは可能です。
 B. 授業のキャンセル:自己都合で参加できない場合はキャンセル扱いになります。その場合の振替や返金はありませんので、ご了承ください。
■個人情報について
 知り得た個人情報はこちらの講座関連以外では使用致しません。
Zoom、メールでのご相談(無料)受け付けています。申し込み前にご相談したいことがある方はこちらにお気軽にご連絡ください。info@language-plus-one.com
特定商取引法に基づく表示
https://drive.google.com/file/d/1itTIvMo1_ZFwHeOriSt9flesYrg3lr5t/view?usp=sharing