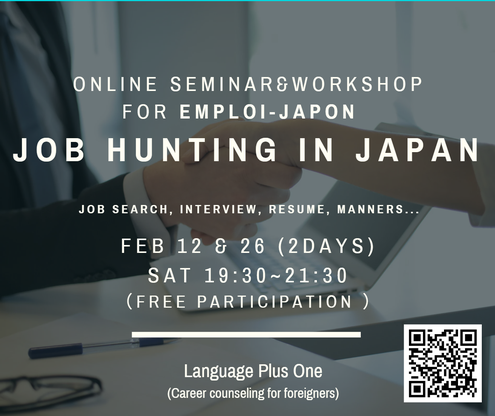 "A career consultant (with experience of as a Japanese language teacher) specializing in foreign nationals  will conduct a free seminar for those who are thinking of finding or changing jobs at Japanese companies.  It is a practical program that focuses on interview and resume preparation. Workshops and question-and-answer sessions will be held in addition to the lectures, making it an interactive format. This is an online seminar, so participants from Japan and overseas are welcome. Please feel free to join us.
◆Date and time: 
1. February 12(Sat) 19:30-21:30
2. February 26(Sat) 19:30-21:30 
 *Two sessions in total, but it is possible to participate in only one of them.
◆Location: Online
◆Number of participants: Up to 10
◆Level of Japanese: N3 or above
◆Fee: Free
◆Registration: https://forms.gle/RxJDH4opowS9s2qW9 (google form)
◆Organizer: Kumi Tanaka from Language Plus One (Career consultant for foreigners)
◆Contents (these may be subject to change)
1. First session (February 12)
―Features of Japanese companies
―How to search for a job
―Interview manners
―Interview question patterns and how to answer (with mini workshop)
2. Second session (February 29)
―How to write a resume (with workshop)
We assure you that the information you provide when you register for a seminar will be kept strictly confidential in accordance with our confidentiality policy. And it will not be used for any purpose other than the seminar.